Reliable Commercial Roofing in Richardson, TX
Discover the Value and Potential Risks of a Roof Replacement Task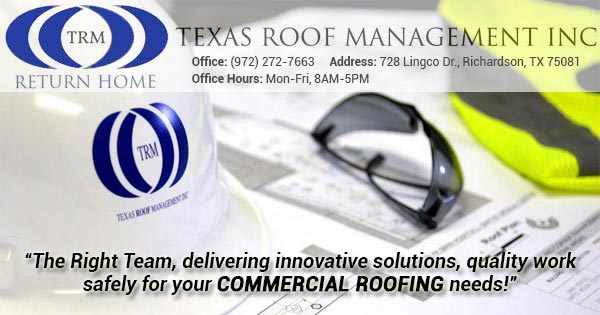 There may come a time when you may need commercial roofing Richardson, TX to replace the entire roof. This may be caused by missing shingles or an aging roof that cannot be salvaged, among other factors. Before you embark on having a new roof installed there are a few things you need to know.
Warning Signs
Not all the issues you have with your roof will call for a replacement. Some require simple repairs. However, a roof replacement is necessary in certain circumstances. Failing to have it replaced on time could lead to costly damages happening on other parts of the house.
Shingles: Your roof shingles can tell you whether your roof needs to be replaced. Buckling shingles is a sign that you must take seriously once you spot it. Consider getting a commercial roofing Richardson, TX, company to determine the extent of the problem and whether you need a replacement.
Age: The age of the roof is a factor when you need to decide whether to have it replaced. A roof generally has a life expectancy of about 20 to 25 years. If the roof has lasted that long, and there is an additional layer of shingles the contractor may advise that you have it replaced.
New Modern Roof
Stripping away older roofs is an extensive job but it has many benefits. For example, the roofing contractor has the opportunity to install ice and water shield in areas of the roof that are prone to ice and water dams.
Other homeowners may take the opportunity to use new materials to protect the home from the elements or to reduce the energy consumption of the building. Metal roofs are some of the newer materials that can reflect solar radiation and cut down on cooling costs significantly.
Roof Overlay
You can choose to have a new layer of shingles laid over the old ones. Regulations in most places will only allow you to have a maximum of two layers. There are both advantages and disadvantages you'll need to consider before taking this step.
Having a new layer of shingles can help prevent ice dams. Contractors are required to remove and properly dispose of the shingles during roof replacement. This costs a considerable amount of money to do. Since a roof overlay does not require the contractor to dispose of the shingles, the process ends up being less expensive for the homeowner.
When adding a new layer to the existing ones there are issues that you need to watch out for. One is if there are buckling and curling shingles they must be removed to ensure the new layer does not develop the same problem.
You also need to be sure that your roof was designed to handle the weight of two layers of shingles. If the roof structure is not designed for the load, it could cost you a great deal in the near future. To avoid any serious issues developing when replacing your roof, it is advisable to consult a commercial roofing Richardson, TX contractor at every stage of the process.