CONTINUING A LEGACY
Since its founding, Texas Roof Management INC has focused on high quality workmanship and on finding the right solutions for our clients' unique roofing requirements.
At Texas Roof Management INC, we pride ourselves on our extensive experience in commercial roofing. We are proud of Wayne Awtrey, our founder, and have continued to keep his aspirations and dreams alive by working hard to accomplish the goals he strived to achieve. Wayne's primary goal was ensuring that each client received exceptional service. Wayne also ensured that each employee understood their own integral role in the goals of TRM.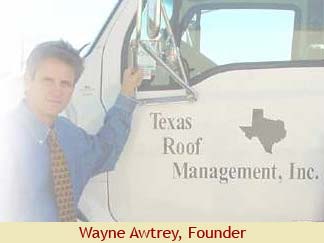 Wayne Awtrey believed that the success of Texas Roof Management INC relied on the respect and loyalty of our clients. As a result, Wayne built up a team of experts who provide quality craftsmanship for each building's roof. Wayne took great pride in the employment opportunities that Texas Roof Management INC provided for our many dedicated employees and their families.
Although we lost Wayne in 2003, we have continued to honor his legacy and business principles. We believe there is no better way to remember Wayne than to maintain his vision: that satisfied clients and happy employees are the foundation Texas Roof Management INC. Catherine, Wayne's wife, became President when Wayne passed away. In order for Catherine to comprehend all aspects of the business, she immersed herself in each department so she truly understood the business. Since 2003, the company has grown significantly. We've earned many awards and accolades while still maintaining the fundamental vision and principles Wayne founded Texas Roof Management INC upon.
Texas Roof Management INC is an industry leader in all areas of commercial roofing, winning both local and national awards as well as recognition for our work on many high profile projects. Our awards include multiple North Texas Roofing Contractor Association (NTRCA) Golden Hammer awards, Circle of Excellence by the Merchant Circle, fastest growing companies in North Texas by SMU's Caruth Institute for Entrepreneurship. Additionally, TRM is consistently ranked among the Top 100 Roofing Contractors in the United States, and annually recognized by the Dallas Business Journal as one of the Largest Woman-Owned Businesses in North Texas.
For Your Commercial Roofing needs Call (972) 272-7663