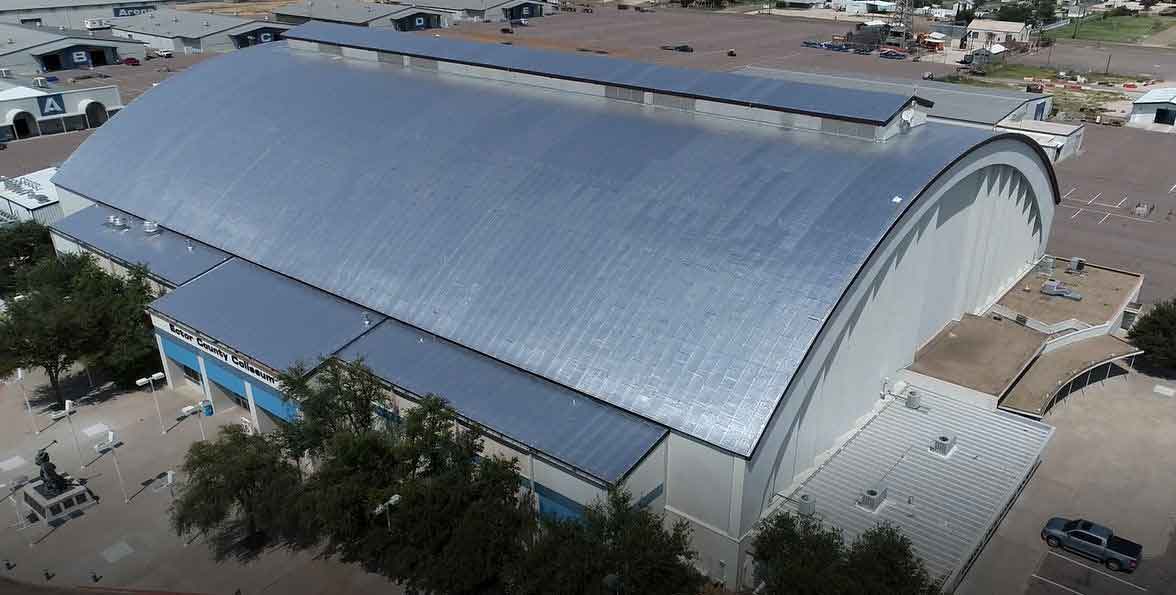 Reroofing the Ector County Coliseum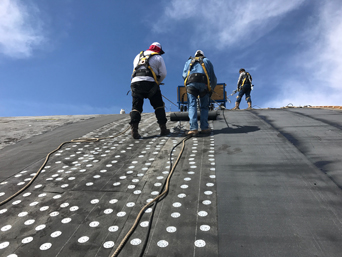 Last year, Texas Roof Management reroofed the Ector County Coliseum.
This large, difficult project was completed on time and within budget, thanks to the expertise and hard-work of the Texas Roof Management team. The Ector County Coliseum is the premier event center in Odessa, Texas. This large building was built in 1954, and plays host to all events that come through the West Texas oil boom town. The coliseum is home to events ranging from Disney on Ice to hockey games, rodeos, and concerts.
The Coliseum stays busy year-round
So we took steps to keep the performers, athletes, and visitors safe while we worked on the lid. We subcontracted TuffWrap to come in and install their interior protection system, along with safety netting under the entire roof area to negate the risks of falling objects and debris. Hockey season began while we were installing the new roof system, which meant interior work had to be performed from 70' to 125' boom lifts that sat on the ice.
The existing roof system at Ector County Coliseum was a 77,800 square foot, Aluminum Veral modified bitumen membrane installed over a lightweight concrete deck. Texas Roof Management was contracted to remove the old and damaged system, replace 10,000 square feet of damaged lightweight concrete, and install a new vapor barrier and rigid insulation. We finished the system with a new Siplast two-ply modified bitumen roof membrane (consisting of Paradiene 20TG and Siplast Aluminum Veral across the field of the roof). Once the new cover system was installed, we contracted with VFC Lightning Protection to install and certify a new lightning protection system.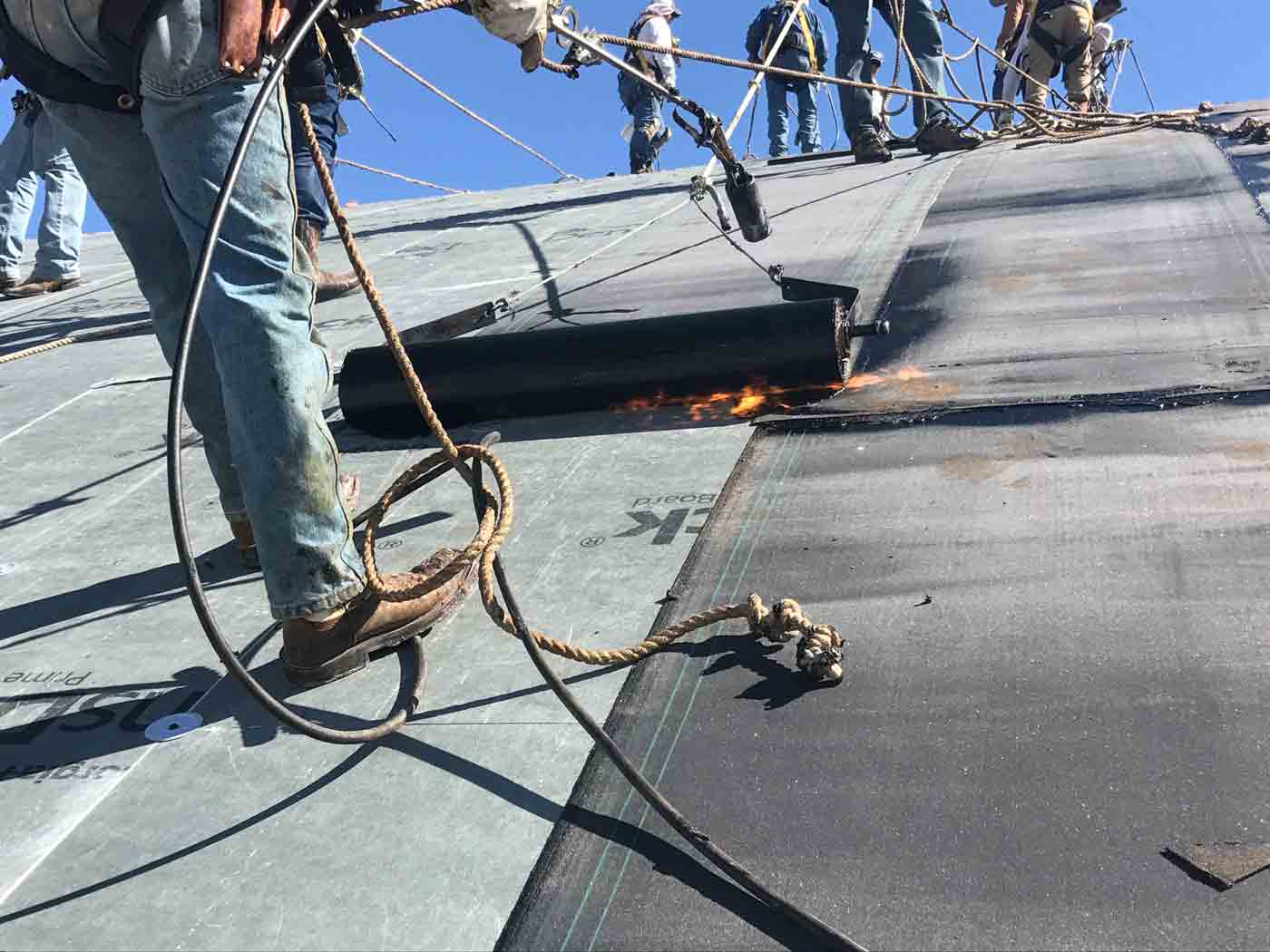 One of the more difficult elements of this project was the replacement of the damaged lightweight concrete. The shape of the roof forced our crews to work on a radius surface while hanging from ropes seventy feet in the air! In order to pour the best deck surface, keep our crews safe, and ensure that the building stayed watertight, we decided to build concrete forms at our shop in Richardson. These forms were 32" x 48" x 3" and weighed approximately 90 pounds each. Over the course of the project, we hauled 930 poured concrete slabs to Odessa and lifted them onto the roof individually. This allowed us to cut the deck out in the areas that needed replaced, immediately set the new slab in place, and cover with the new vapor barrier for a watertight condition.
When we bid this job, we understood that working on a radius roof while torching can be problematic. Due to the slope of the work surface, safety ropes can easily tangle and modified bitumen rolls can become misaligned. We knew our guys needed to stand upright while on a vertical surface without the strain of a safety harness fighting their every move, but a regular ladder wouldn't conform to a radius roof slope. To solve this problem, we designed and built a ladder system to roll along the roof surface. This ladder gave our crews something to stand on and let them keep their safety ropes off to one side of the work area. As a result, our guys were more productive and produced a clean, straight roof system.
We completed this job with no injuries, no punch list items, on time, and under budget.
On July 14th, Siplast issued a Manufacturer's Warranty, and we removed our equipment from the site.The reroof of Ector County Coliseum was a successful project by every standard. We're very proud of this project and we're grateful for the opportunity work with Ector County.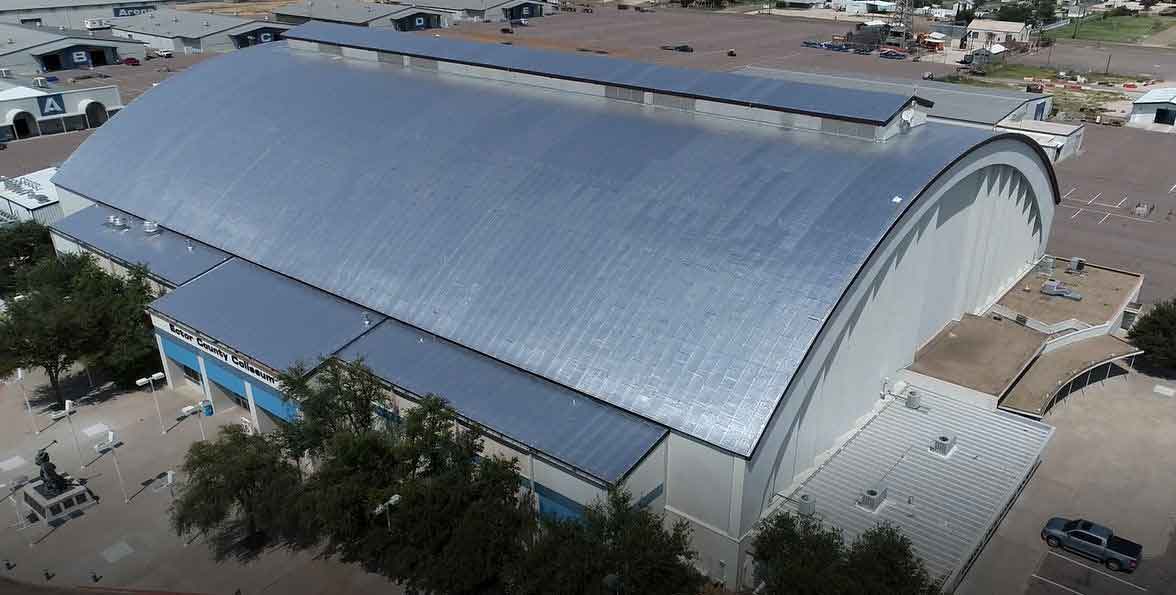 For more commercial roofing services, call

(972) 272-7663.