TRM Completed CERTA Training Course
TRM ROOF TECHS COMPLETE CERTA TRAINING COURSE
TEXAS ROOF MANAGEMENT INC's roofing crews recently completed a CERTA (Certified Torch Applicator) training course to help our roofing professionals learn how to safely and effectively operate propane torches. The North Texas Roofing Contractors Association, in conjunction with the Midwest Roofing Contractors Association, organized CERTA to promote a standard for safe usage of roofing torches.
When used in the open air, a propane-oxygen roofing torch reaches a maximum temperature of 3,623 degrees Fahrenheit. These high temperatures pose a significant threat to the safety of our crews. It's imperative that the professionals operating this equipment are well-trained and certified to work with torches.
The CERTA training courses were held on the 3rd and 4th of October, with another course scheduled for the 13th. The eight-hour courses consist of lectures, video training, and hands-on practice, and were presented in both Spanish and English. After the classes are complete, a total of 53 roofing professionals will receive their CERTA Training Certificate.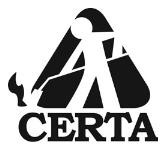 CERTA training is proven to decrease the number of serious roofing torch-related fire incidents.
TEXAS ROOF MANAGEMENT INC would like to thank Luciano Perez and Hector Molina with KPost Company, as well as Antonio Arzate and Eddie Garza with ITBX for teaching these courses.
We'd also like to thank Kevin Kirkwood with SRG, for providing a great facility for the training, Scott Anderson with ABC Supply and Rusty Garrett with Polyglass for providing the materials needed, and NTRCA and MRCA for creating the training program.
LEARN HOW TO SAFELY AND EFFECTIVELY OPERATE PROPANE TORCHES, CALL (972) 272-7663!