Best Roof Installation in Dallas, TX
How Commercial Roofing Installation Companies Arrive at the Overall Cost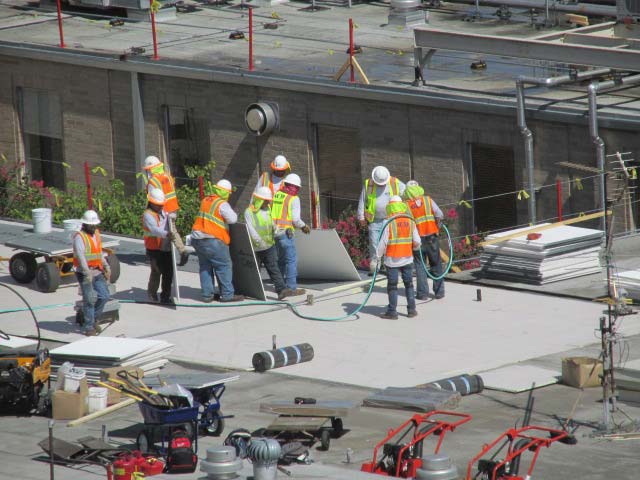 In most cases, cost is the driving factor when commercial roofing has to be undertaken. The building owner will choose one roofing system over the other because of the cost brought about by the amount of expertise, workmanship and resources required. The question is, how can the commercial building owner get the desired roofing installation while keeping the cost low? The answer lies in tracking the parameters that commercial roofing companies use to arrive at the figure that will then be passed down to the owner to pay. Getting the best roof installation in Dallas, Texas deal shouldn't be tedious or complex. There are about four points that commercial roofing companies consider when they are computing the figures.
Material Specifications vs. Cost
The material you choose for your commercial roofing installation has a direct consequence on the overall cost of the roofing. Metal roofing is popular and it costs lesser than tile roofing. So, if you go for tile roofing, you will dig deeper into your pocket.
Concrete roofing tiles go for reasonable prices for their sheer weight makes transportation a trickier affair. Slate roofs, clay and terra cotta roofing go at different prices. The commercial building owner is strongly advised to compare prices before making their choice. However, keep in mind that quality comes at a price.
Roofing Systems vs. Cost
There are different systems of roofing available today in the Dallas, TX construction market, namely: built up roofing, modified bitumen roofing, plaza or terrace decks, single ply roofing, roof coatings, green roofing, roof recovering and penetrations / flashing. These systems of roof installation in Dallas, Texas require varying levels of expertise, workmanship, and resources.
Roofing installation companies do consider the system of roofing designed for your construction before computing the total figure that you are going to pay. For instance, installing modified bitumen roofing installation requires skilled workers for the simple reason that there are three known methods of installation: hot asphalt, torching, and use of cold adhesives.
Location vs. Cost
If you live around Dallas, TX and you are looking for a roofing installation company, the best advice is to contract a roofing company from around your community. Roofing installation companies that are based in Dallas, TX have a reputation to uphold. They are more motivated to guard their name against negative reviews due to poor quality work and high roofing installation costs than a company that is not based within the Dallas, TX community.
The main benefit of contracting a company that is within easy reach of the construction site is cost. Moving roofing installation materials and technicians from a far location is obviously expensive and challenging. The process might require additional manpower and it is time consuming.
Every commercial roofing installation company has its own formula of arriving at the overall cost. Some are skewed while others are straighter and predictable.  If you put the factors mentioned above into consideration, then you are in a qualified position to make overall cost approximations that are not far off the mark. I hope that these facts will inform your choice when it comes to roofing installation in Dallas, Texas.