Emergency Commercial Roof Repair in Arlington, TX
If asked, wouldn't you agree that the roof acts as your commercial building's first line of defense against the elements? We would concur, as well, and that's why it's important to understand that your commercial roof is vulnerable to sudden and unexpected damage when severe weather moves through the Arlington area. Here's the scoop: Knowing what to do and who to call if you're faced with needing emergency commercial roof repair in Arlington TX can help minimize your stress and damage to your property and its contents.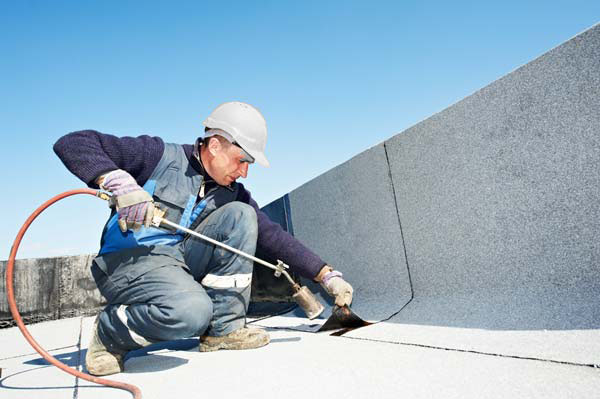 No one wants to deal with a roof that leaks, whether it's a residential or commercial type, but there are some commercial roof repairs that are more necessary than others; when a leak occurs, there's more than the roof that endures the damage – to a certain extent, this is because what's within the structure is the result of the leak rather than the source of it. Indeed, this makes it more difficult to tell what else may be damaged, and this damage is going to vary according to the details of the structure itself as well as the style of roofing the building utilizes.
Before you call upon a company specializing in emergency commercial roof repair in Arlington TX, there are three factors to consider when you immediately encounter a leaky commercial roof:
Directing the Water
Understanding the Risks
Taking Immediate Action
Let's take a brief look at each.
Directing the Water
While we all, of course, would view a roof that leaks an inconvenience, the fact of the matter is that it can cause a plethora of damage inside a structure. If you are not trained in roof repairs, the best thing to do is not even go on or near the roof; put something in place to manage the flow of the water, and if your commercial structure boasts ceiling tiles or another type of material that's easy to remove, take the affected pieces down.
Understanding the Risks
Water damage is not only unsightly, it's dangerous – when it comes to historic buildings, water can destroy materials that have been in place for centuries. Water, in order to get from the top of the roof to the floor of a structure, may have to travel through decking, insulation, framing and other materials; in addition to water damage and destruction of materials, there is the potential for mold and mildew to form. An ongoing leak poses some of the highest levels of potential for mold to grow, because there is a constantly damp area.
Taking Immediate Action
There are a few phone numbers that every commercial property owner should have on hand, as this makes it easier to get things done in an emergency situation. The contact information for an emergency roof repair company is of the highest priority – don't assume that every roofing company offers the same kinds of services, either. Some only focus on new construction, while others only dabble in residential properties. Additionally, roofing companies that work on commercial roofs or historical structures understand that dealing with a leak is a top priority for these types of structures.
How to Know When You Need a Commercial Roof Repair Professional
For some commercial property owners, roof damage occurs with some obvious signs, like destruction caused by a storm or missing shingles due to violent winds and rain. For others, however, the signs are more insidious, appearing deep inside the roof, striking when you least expect it.
How do you know that you need a roofing contractor for emergency commercial roof repair? Here are some tips to help you decide if it's time to call in an expert like Texas Roof Management:
Water Leakage – Any water entering from your roof is an emergency that needs to be dealt with immediately; water seeping into your commercial building from the roof means that more damage is occurring on a daily basis. Water leakage is best addressed immediately by pros specializing in commercial roof repair in Arlington TX.
Roof Rot – An old roof that hasn't been serviced in decades is more than likely a disaster waiting to happen; old wood under roofing shingles, if a commercial property is so equipped, can give way after years of water damage and rot. The only way to tell if your old roof is safe is to contact a professional roofer.
Storm Damage – As we have touched on throughout this blog, nothing says "roofing emergency" like damage caused by a storm, lighting, snow, ice dams or wind. When bad weather occurs, the last thing you want is for your commercial building to become damaged; if your building's roof is damaged by a violent storm, do not delay – contact a roofing contractor ASAP.
When your commercial roofing system suffers damage from debris, storms and other factors, it must be repaired quickly in order to minimize damage to the interior of the building. The right approach by pros specializing in commercial roof repair in Arlington TX can extend the lifespan of a roof with high-quality emergency roof repairs.
For more emergency commercial roof repair services, call (972) 272-7663.