Texas Roof Management INC: Wins Golden Hammer Award from NTRCA
Dallas, TX – March 14, 2017 – Texas Roof Management INC, an accomplished commercial roofing company based in Richardson, Texas, received the coveted Golden Hammer Award on Saturday, February 25 by the North Texas Roofing Contractor Association (NTRCA) for the most outstanding commercial roofing project in North Texas, for 2016. The project Texas Roof Management INC was recognized for specifically centered on the historic Old Municipal Building in Downtown Dallas, a structure poised to become the new home of the University of North Texas Law School.
For over 20 years, Texas Roof Management INC has provided quality roofing service options for a bevy of commercial clients, growing to the point that the company has been recognized as one of the premier commercial roofing organizations in the United States. Founded by Wayne Awtrey, with the goal of providing excellent and reliable service, Texas Roof Management was taken over by Wayne's wife Catherine after his unfortunate passing in 2003, who continues to build on the company's strong reputation.
"Our strength lies in the fact that we understand that each commercial roof is unique," states Catherine Awtrey. "At Texas Roof Management INC, we help our clients assess their roof assets for recommended maintenance and repair, providing them with the right roofing system when it's time for a replacement."
"We are absolutely thrilled to be the recipient of the Golden Hammer Award for most outstanding commercial roof project in North Texas for 2016."
This latest Golden Hammer accolade is another in a long line of honorary awards Texas Roof Management INC has received over the years. As a leader in all areas of roofing in the commercial sector, the company has won both local and national awards and recognition for its work on many high-profile projects. These awards include multiple North Texas Roofing Contractor Association Golden Hammer Awards, Circle of Excellence recognition by the Merchant Circle, fastest-growing companies in North Texas recognition by SMU's Caruth Institute for Entrepreneurship, consistent ranking among the Top 100 Roofing Contractors in the United States and annual recognition by the Dallas Business Journal as one of the Largest Woman-Owned Businesses in North Texas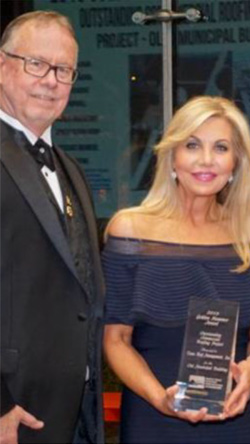 In the area of Roof Asset Management, Texas Roof Management INC provides programs which incorporate regular inspections and preventative maintenance that add years of life to any roof. Further, the company offers two levels of roof asset reporting to match clients' needs, including Streamlined Reporting, which documents roof conditions with photos and recommended preventative maintenance along with providing annual budget maintenance costs and estimated roof life expectancy, and Comprehensive Roof Reporting, documenting roof conditions with computer-enhanced roof drawings to provide all penetrations and deficiencies found, photos, visual history of repairs over multiple years and recommended preventative repairs.
"At Texas Roof Management INC, we pride ourselves in our rich heritage in the commercial roof sector," concludes Awtrey. "We are proud of our founder Wayne, and have continued to keep his aspirations and dreams alive by working hard to accomplish the goals he strived to achieve. With the primary goal being to ensure each client receives exceptional service, the foundation of this company's success remains secure."
Texas Roof Management INC is located at 728 Lingco Drive in Richardson, TX and can be reached by calling (972) 272-7663. For more information visit www.TexasRoof.com.